What is the kindest thing anyone has done for you?
How can an act of kindness multiply & affect an entire community?
Imagine if our whole community were impacted by kindness—making Indy an even greater city to live in and visit! Join us for an event based on the idea that ONE act of kindness can spread into FOUR other acts of kindness, and keep multiplying throughout our great city.
Kindness in our society is explored in a documentary entitled, "Kindness is Contagious"  AND explains the effects of kindness and the benefits of being kind.
Thursday, August 20, 2015
The Indianapolis Central Library
5:00pm to 8:30pm
5:00pm to 5:30pm  Registration
5:30pm to 6:00pm  Wine & Beer Reception – Simon Reading Room
6:15pm to 7:30pm  Screening of "Kindness is Contagious" in Clowes Auditorium
7:30pm to 8:30pm  Panel Discussion & Audience Q&A
Tickets available for $20
Purchase online by CLICKING HERE!
 OR mail a check to:
Horizon House
Be Kind Indy Event
1033 E. Washington St.
Indianapolis, IN 46202
 Be Kind Indy benefits Horizon House, a day facility providing needed resources and services for homeless individuals (we call "neighbors"). www.horizonhouse.cc
 Pay It Forward Sponsors:
Indiana Derby – Race 2 Named After Horizon House!
Thanks to our friends at Indiana Grand Racing & Casino Horizon House will be a part of this weekend's 21st Running of the Indiana Derby.  Race 2 will be named "Hope is on the Horizon" for our annual fund – which will ensure our financial stability to provide critical services for our homeless neighbors for years to come.
Please join us for the Derby on Saturday, July 18th or watch on Ch. 8.
To learn more about the Indiana Derby, please CLICK HERE.
"You Don't Have to Live Like This.  
You Don't Have to Be Homeless."
Those were the words that Melissa, Street Outreach Lead, told Angie when she would visit her in her makeshift home along the river. Angie became homeless after losing her job, and her apartment. Originally, she had moved to Indy from Louisiana but did not have any support system here to help her in her time of crisis.
For a homeless camp, Angie's wooden structure was more stable than most as she had a one room space. Being very resourceful, Angie tried to provide for her needs and for the needs of others in the camp area. As a natural care giver, Angie took care of stray cats too. "People who have homes throw cats away," she said.
For awhile, Melissa engaged Angie in conversations about getting housed. After five years of homelessness, Angie realized she was getting older and would need increased medical and mental health care. The daily act of survival was also trying as her possessions were stolen, the campsites attracted pests and it became increasingly difficult for her to move around with arthritis in her knees. Finally, Angie agreed to be on the list for housing through the Continuum of Care.
The biggest worry Angie had was – who would take care of the others at the campsite and the stray cats that found their way out there. She was assured that any cats found there would be placed with the Humane Society to find permanent homes and that outreach teams would still visit the riverside camp to help people living there.
With her worry alleviated, Angie began to pursue housing. The big day came as Melissa handed Angie the keys to her newly remodeled apartment. She could now live in a permanent home and concentrate on addressing her mental health and medical issues. Towards this end, Angie regularly visits Eskenazi Health Pedigo at Horizon House for her needs.
Now in her new place and taking care of herself, Angie still cannot resist caring for others. She has made friends in her new apartment building and is already helping those in need.
Please consider a donation to Horizon House for all the homeless neighbors we help overcome their homelessness.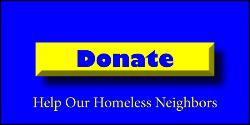 Horizon House is in need of the following items to serve neighbors with respect & dignity:
New men's & women's underwear sizes S – XXL
New white athletic socks
Travel size deodorant
Men's khaki or casual dress pants
Men's polo or dress shirts
Flashdrives 2GB or 4GB
Rain ponchos
If you are able to donate any of these items, please bring to Horizon House at 1033 E. Washington St. Monday thru Friday 7am to 5pm. Please go to the entrance off of Southeastern Ave. If doors are locked, please knock.
We greatly appreciate your thoughtfulness and generosity on behalf of our neighbors.